JILL COLCHESTER – 9./10. MARCH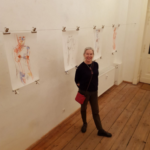 Vernissage : 09/03 – 18:00 Uhr – 22:00 Uhr
Opening Times :  
9th   : 14Uhr – 18Uhr
Wie werden weibliche, gezeichnete Figuren wahrgenommen? Werden sie als namenlose sinnliche Objekte betrachtet oder werden sie als Inbegriff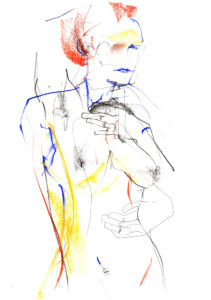 femininer, üppiger, kurvenreicher Weiblichkeit gesehen? Ändern wir unsere Wahrnehmung von dem wer sie sind, wenn wir sie betrachten? Verändern sich die gezeichneten Figuren in ihrer Pose von diesem zu jener Haltung? Welche Art von mentalen und visuellen Anpassungen machen wir, wenn wir sie sehen? Jill Colchester fordert unsere Wahrnehmung zu jungen Frauen heraus. Sie zelebriert ihre Dynamik, ihre Anmut, ihre Fluidität und Jugend. Diese Pop-up-Ausstellung ist flüchtig und fokussiert den Blick auf das Modell, das sich hierhin und dorthin bewegt. Die englische Übersetzung von "So und So" ist "so and so", or " this and that way". Die Modelle sind so oder so gezeichnet. Im Englischen bedeutet " and So" eine Person oder eine Sache, dessen Name nicht spezifiziert werden muss, man nicht weiß , sich nicht erinnert. Die Doppeldeutigkeit des Titels fordert auf, die Betrachtung von Frauen zu reflektieren, ihre Bewegungen – und den Blick auf sie.
Jill Colchester, ausgebildet in Zeitgenössischem Tanz ist fasziniert von Körpersprache und Bewegung. Sie lebt und arbeitet in England.
        ***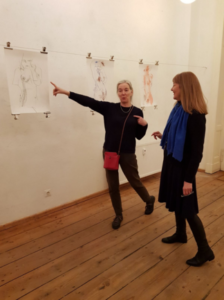 How are drawn figures regarded?
Are they seen, or perceived, as un-named sexual objects or are they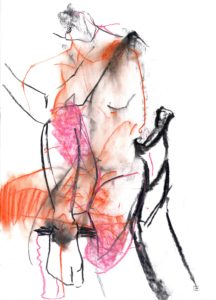 seen as the epitome of womanhood, fulsome, feminine and curvaceous. Do we, the viewer, change our perceptions of who they are, as we gaze at them, and do they, the drawn figures, appear to change in their pose from this way to that. What kind of mental and visual adjustments do we make when we view them?
Jill Colchester is challenging our perceptions of young women. She is celebrating their dynamism, their grace, their fluidity and youth.
This pop-up exhibition is fleeting in time, catching glimpses of the posed model, who turns this way and that.
The English translation of So und So, is this way and that. The models are drawn looking this way or that way. However, in English, So and So means 'a person or thing whose name the speaker does not need to specify or does not know or remember'. The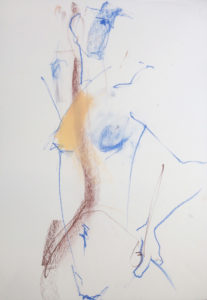 double entendre in the title challenges us to rethink our perceptions of women, how they move and how they are seen.
Jill trained in Contemporary Dance and is fascinated with movement and body language. She lives and exhibits in the UK, where she tutors adults on her 60-week drawing course, with Abingdon & Witney College, Oxfordshire.