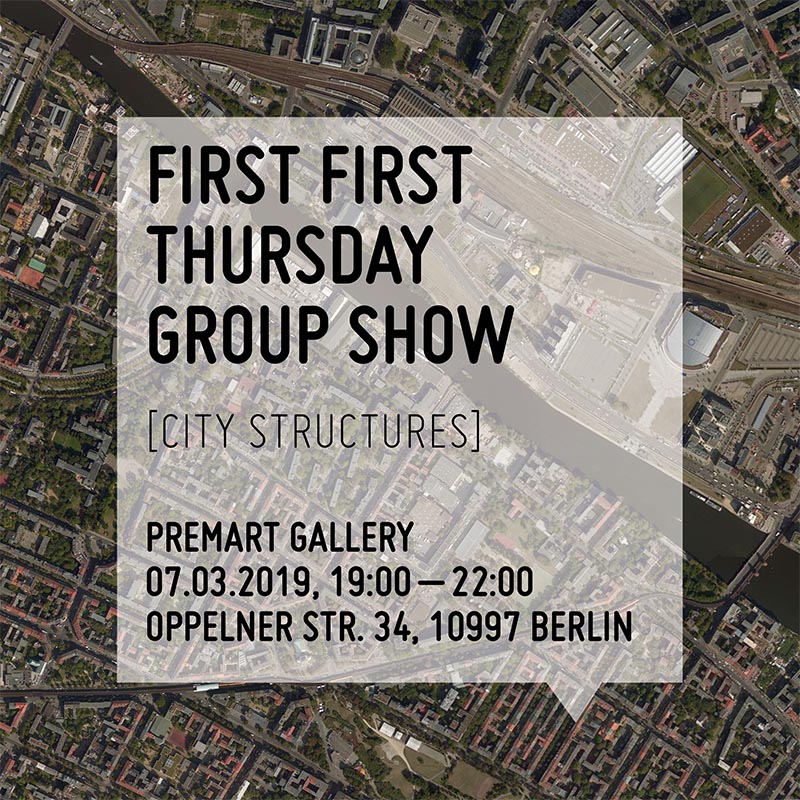 FIRST FIRST THURSDAY, MARCH 2019
First First Thursday is a group show of international artists based in Berlin, and will be happening at PremArts (premarts.de) this Thursday, March 7th from 19:00 – 22:00 and by appointment there after. The gallery is located in the Wrangelkiez of Kreutzburg at Oppelner Str. 34 and this show is the first of a monthly exhibition at the gallery with the hopes of inspiring a Wrangelkiez First Thursday Artwalk down the road.
The theme of this months show is [city structures] and will bring together paintings, photography, sculpture, video work and more from this first group of first Thursday artists and how they work with the structures of the city.
participating artists –
Achim Stiermann | www.stiermann.org
Avi Albers Ben Chamo
Bernard Bolter | www.bernardbolter.com
Herr Ling | @esvecee
Inga Kat Coleman | www.ingakatcoleman.com
Inka | @inkaone_cmd_tck
Janna Kubek-Valente
M. Von Mutterer
Mahsa Nejed
Nam Nguyen | www.nampainting.com
Su-Prema
Shek
Sweza | www.sweza.com