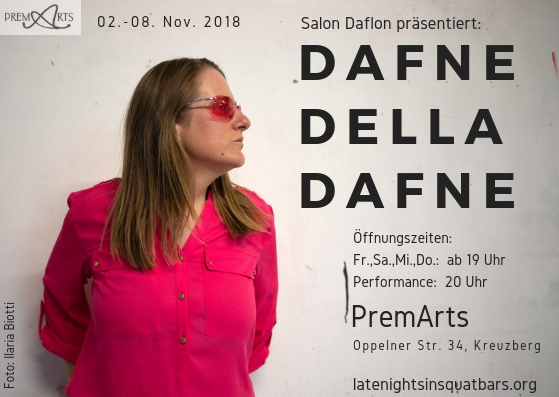 2nd – 8th November 2018,
Vernissage: Friday 2nd November
Finissage: Thursday 8th November
Opening hours:
Friday 2nd, Saturday 3rd, Wednesday 7th, Thursday 8th November
From 7pm
Performances each evening at 8pm
Free entry.
In this special solo show at PremArts, Dafne Della Dafne presents a collection of her latest song compositions and sound works, with accompanying video material, tracking her artistic interpretation of socio-economic and cultural conditions. In a landscape inhabited by changed climates, precarious living and gentrification, late capitalism's gloom and doom is analysed in Dafne Della Dafne's creative lab, Salon Daflon, and transformed into contemplative ruminations on how to survive and thrive in modern times.
There will be a live half-hour performance by the artist every evening.
Free entry, donations welcome.
Biography
Dafne Della Dafne is a New-Zealand born, Berlin-based musician, performer and sound artist, and one half of the artistic and curatorial duo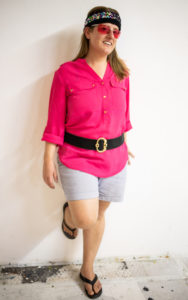 Late Nights In Squat Bars with Shanti Suki Osman. Together they have released 2 albums of indytronic feminist songs, and organised several festivals, event series and sound installations, including 2018's Hearing Now sound exhibition at O.T. Projektraum.
Dafne Della Dafne has founded several post-punk, alternative and indie groups in the past, as well as having a background in devised theatre. As a solo artist,
Dafne has released 2 albums and recorded dozens of idiosyncratic political electro-pop songs, some of which are featured in this exhibition. She also produces a monthly radio show of female-voiced electro and dance music for Berlin's Freies Radio. Late Nights In Squat Bars http://latenightsinsquatbars.org/ Dafne Della Dafne https://soundcloud.com/dafnedelladafne/ Salon Daflon Calling (radio show) https://www.mixcloud.com/salondaflon/
Photo credit: Ilaria Biotti