A Pop up Store for fair trade Christmas Gifts, Charity and
Creative events in Kreuzberg.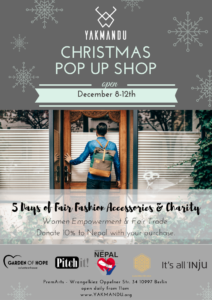 Fri/Vr  8.12. ~ 7PM
Opening-Party with DJ & Charity Drinks
Sat/Sa  9.12. ~ 8PM
YAKMANDU POP UP SHOP presents
In Concert Betina Quest:

A proud Burundian of many cultures.
A devoted artist of many layers.
A woken twenty-something of many tales.
bq is new to most ears but feels familiar to most souls.
Be taken along on the quest to peace of mind.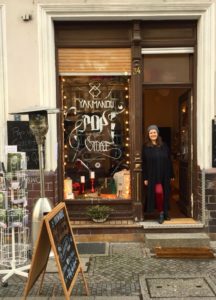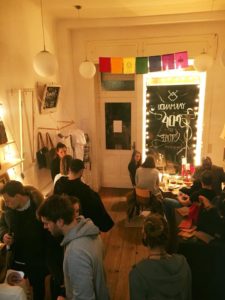 Sun/So  10.12 ~ 4PM
Bionade & INJU Founder Speech about Energy & Entrepreneurship
Mon/Mo  11.12 ~ 7PM
Female Energies Vortrag: Women Empowerment in Nepal
Tues/Di  12.12 ~ 6PM
Finissage