14 – 23 December 11:00 – 19:00
Auction Xmas Party – Fri/Fr 22 Dec 20:00
Cozy comfort mingles with friendly art prices at this storefront gallery project space transformed into an art market for ten days – with an auction hosted by Simon Williams – three days before Christmas.
Colorful paintings, contemporary photographs, hand-crafted booklets, dynamic sketches and innovative jewelry.
Open through to the Saturday before Christmas, the 23rd, Winter Warmer invites you to select unique beautiful and special gift items available for the last minute shopper. The Xmas party Auction on Friday the 22nd promises to be a lively event with dynamic host Simon Williams of the Ballery.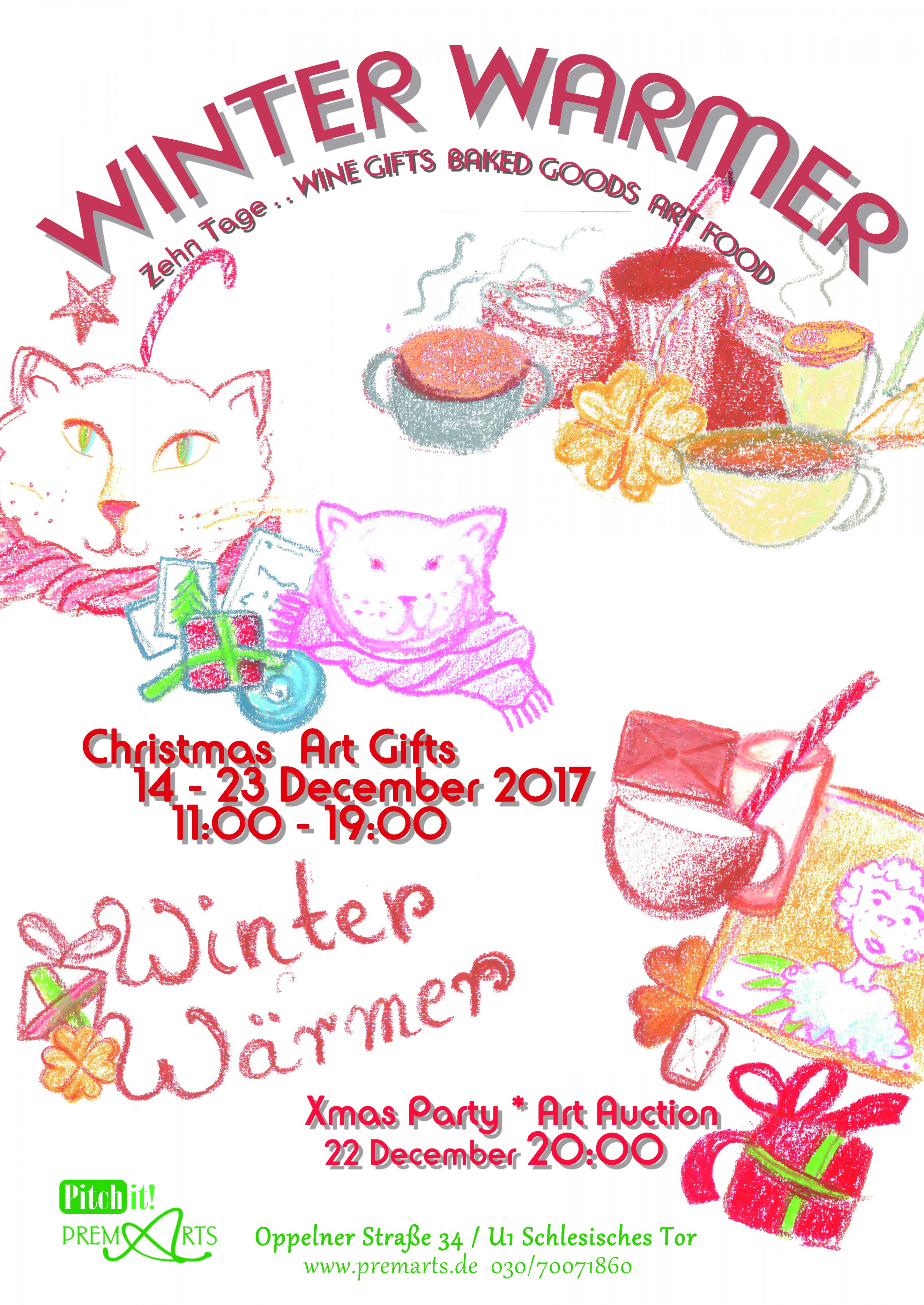 *
Warme freundliche winterliche Gemütlichkeit vermischt sich in unserem Projektraum, der Ladengalerie PremArts mit erschwinglichen Kunstgeschenken. Für zehn Tage verwandeln wir uns in eine künstlerische Winterwärmerstube.
Farbenfrohe Gemälde, zeitgenössische Fotografien, handgefertigte Booklets, dynamische Skizzen und innovative Objekte.
Wir haben täglich geöffnet von Donnerstag, dem 14. Dezember, bis zum Samstag dem 23. vor Heiligabend. Winterwarmer läd ein, einzigartige schöne und spezielle Geschenkartikel auszuwählen, die wir auch gerne liebevoll verpacken.
Die Xmas Party Auktion mit Simon Williams von der Ballery am Freitag, den 22. Dezember, verspricht ein ganz besonderer Höhepunkt zu werden.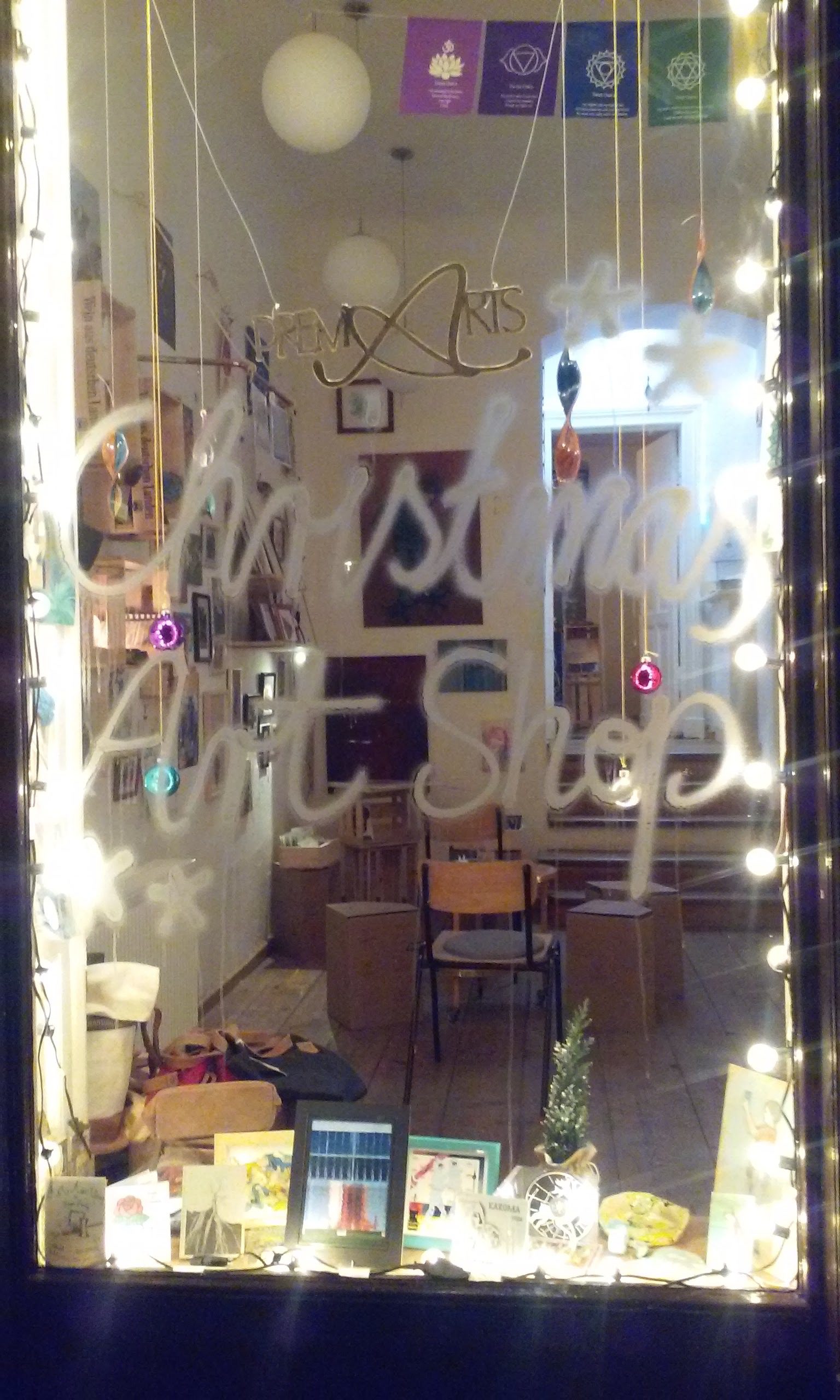 Julie Miammmiam
French illustrator and artist, living in Berlin and born in the 80's. She studied at the Saint-Etienne School of Art and Design and at Weißensee Kunsthochschule Berlin. She is regularly collaborating with music band, and also the Slow Galerie, Paris, the Serigraffeur, Neurotitan and Supalife in Berlin as the villa Noailles, Hyères. Since 2010, she is using hand made silk-screen printing, from the drawing, with ink, brush and quill, to the print. Julie is creating a colorful bestiary, mixed of lightness and power, tinted with humor, but also permeated by more symbolic subjects: global warming, population separation and multiculturalism, infiltration of the wildness in the urban… Her digestive lines of her drawings swing between sensuality and morbid fascination, a bitter sweet fantasy world, inhabited by cute creatures and mysterious beasts. Her last set, Kopfkino, is about the Kiez of Kreuzberg, animal meeting, alive cemetery and Berlin's wall crossed over a cosmopolitan pack, message with a strong symbolic resonance…
Luiza Schiavo
Intuitive and personal paintings are an intimate exploration of identity and persona. She captures a sensitive and expressive natural state that lies just beneath the surface of each moment. These moments are not necessarily the most beautiful or picturesque. Instead they tell a deeper, richer story of the whole range of emotions because she is not afraid to depict her subjects at their most vulnerable. When her gaze becomes introspective she applies this same level of subversive sensitivity to her own figure. The result is a raw and uncompromising look at an extremely poignant and transitional period of her own life. Painting allows her to express her subjective perception of reality. Each stroke of her brush adds texture to the surface of the canvas, mimicking the unevenness inherent in our own selfrepresentation. It is because of this unadulterated honesty that her portraits have such a power to communicate their emotional depth.
Janna Baibatryrova
Franco-Kazakh illustrator born in Kazakhstan. She grew up in Paris, studied in Brussels and in Transylvania and is freshly expatriated in Berlin. "I have a passion for travel and a compulsive desire to discover the world. I am interested in, among other things, the numerous facets of the internet, vegan cuisine, queer culture and art in all its forms. I am also engaged in feminism and one of the co-founders of the webzine roseaux.co. I like to work with paper and dreams."
Betty Stürmer
Betty Stürmer, artist and dj. in the 90's she was famous for her club art shows in berlin – with her invention of dj everybody – the democratic happening , 1996 she became also a dj and drops her collagestyle vinyl mixes of dubstep, afrobeat, soul and nulatin in berlin clublounges like moebel olfe, monkey bar, mysliwska or bar eschschloraque. Visually you will find the same concept in her collage serie "multituned", the painting- collages looking like handmade photoshop the silkscreen series b-side belongs also to it. b-side star soundsystem is the 4 print in that serie,who thematize the backside of handcrafted textile ornaments. In relation to her vinyl peformances there is a soundsystem involved in the print motiv, which can be seen as a supporter of the b-star motiv, flying with it through b-universe.
Camille Mojon
Camille Mojon (born in 1984) is a French and Finnish artist who studied and graduated in Aix-en-Provence Art School, France. Since 2009 she lives in Berlin and works on painting, drawing, wood and paper sculpture. www.camillemojon.com
Dale Grant
Born in the Bahamas (naturalized Dutch), Dale Grant has spent most of his years living in Paris, New York, Amsterdam and Berlin. After graduating from university with a Masters Degree in International Relations, he followed his heart and became a photographer specializing in both fine art and commercial photography (fashion, still lifes and portraits). Dale has always enjoyed experimenting with lighting in his photography and it is his distinct lighting style that has distinguished his work from his peers. For his gallery work he is influenced by the lighting seen in the paintings of the Dutch masters. The photo shown in this exhibition, "Fade 2016", is a part of his series that captures the distinctive charactistics that flowers have when they begin to wither and die.
He says of the series: "I find that as flowers begin to wither they finally show their unique beauty when their petals open fully and their vivid colors become more muted in tone. Beauty is seen in the fragility of flowers as the petals become translucent allowing light to shine through them adding texture and form to the photographic image. Flowers all begin life looking rather similar but it is at the moment when they begin to wither and eventually die that we witness their true individual beauty."Dale's work is collected by international collectors and has been shown in numerous gallery exhibitions.
Nazli Koca
Nazli is a writer, editor, zine-maker, podcaster and talk-show host based in Kreuzberg. Her writing has been published in online magazines, her publications are sold in bookshops in Berlin, Barcelona and Istanbul, her weekly podcast Unsent Podcast is on SoundCloud and her monthly event series Berlin Stories takes place in The Ballery every last Wednesday of the month.
Stephen Andreas
Painter and sculptor Stephan Andreas was born in the fringes of East Berlin at a time when the first plaster crumbled down the Berlin Wall. His work explores greed, crisis and downfall as well as human convention. It has been exhibited at Spring Studio New York; Alchemical Theatre Laboratory and Funkhaus Berlin amongst others. He completed his undergraduate studies in social work at the Alice Salomon University of Applied Sciences Berlin. He is a recipient of the Fulbright scholarship, which has enabled his arts studies at New York University's Gallatin School of Individualized Studies, where he majored in arts and public policy.
John Sloboda
I'm a musician, researcher, and activist, based in London. In the 1960s I won a school photography prize, but then abandoned serious photography for most of my adult life. In early 2013 I began making art pictures again. I obtain satisfaction from seeking to look beneath the functions and identities of everyday objects and places to discover and highlight hidden underlying forms, emotions, and shapes. I don't plan my photographs. They get taken while I'm doing something else, at moments where my visual and emotional attention gets strongly drawn to something, and I quickly reach for the camera. Similarly, the equipment I use is that which I happened to have in the house, nothing specially bought for the purpose (Iphone, MacBook Pro with Iphoto editing suite, and a £50 Nikon Coolpix L29 16MP 5x Zoom Compact Digital Camera). I display my photos online – alongside art I like – on the free Pictify art blog http://pictify.saatchigallery.com/user/johnsloboda (my work is in folders entitled "originals"). This expresses my identification with the potential for art and artistry to be a universal and ubiquitous gift, available to everyone as maker and consumer.
Bruce Hooke
A photographer, sculptor and performance artist based in western Massachusetts, in the United States. His photographic work ranges from studies of wild nature to explorations of the human relationship to nature, both from the perspective of a nostalgic desire to return to an Edenic nature, and from the perspective of our real, modern, fractured relationship to nature: as another place to find power, control and the resources for material wealth. In his work, "nature" can be a wild forest but also a weedy, polluted, urban lot, or corn fields stretching to the horizon. Photography has been his primary medium for over a decade but in 1994 he received an MFA in ceramics from Cranbrook Academy of Art.
Jason Jenn
Jason Jenn is an interdisciplinary multimedia artist living and working in Los Angeles. His family heritage is Iowa and Switzerland. Jason enjoys combining various sensual pleasures – words, sounds, music, movement, video, and other visual forms – for the stage, screen, and gallery. As a performer, known as the Troubadour Trixter, he shares provocative, uplifting and imaginative ideas and stories. His collages mix beautiful images with a dreamlike quality, using hand-torn methods to give the pieces a raw, organic, natural essence.
Vojislav-Voya Radovanovic
Vojislav-Voya Radovanovic, originally from Serbia (Valjevo 1982), now lives and works in Los Angeles, CA. Traditionally educated as a painter and print maker, he has worked with various media – from classical paintings and drawings, to multimedia art projects, gallery installations, video, and experimental film. Vojislav graduated (BA, MA) from the University of Art in Belgrade, Serbia in 2005, and the Academy of Fine Arts in Salzburg, Austria in 2004. He also lived in Paris, France for some time, acquiring inspiration from the amazing world cultural heritage preserved in Parisian museums and galleries.
Jens Junge
after being a commercial photographer for some years, jens junge started his journey which led to the work he presents under the name of NICHTLICHT. the combination of the digitalisation & former work experience generated a strong will to bring more character into the final result of photography – the print. a little while later he started to work with a specific rough, but still smooth appearing recycling cardboard. After understanding what the material was asking from him to do, it had a strong impact on his way of working with the camera. Ever since, he donates a huge amount of his time creating a collection of pictures for the material. Eachsheet is cut & sorted by hand for every single print.
COOGIE ~ Herr Ling
Sebastian Herrling, geboren 1981 in Demmin, aufgewachsen in Berlin. Aerosol Artist seit 1996, Fotograf, Klexograf. Musikproduzent seit 2001 unter dem Namen Snake Versus Crane aka SVC.
SuPrema
Prema Strack, geboren 1980 in München, aufgewachsen in Berlin, bildende Künstlerin und Musikerin. Fine Art Installationen, Skulptur und Malerei, Zeichnungen und Aerosol Art, 3D-Design und Art Games, Modellbau und Szenenbild.Texterin, Sängerin, Percussionistin, Kurzfilm- und Hörspiel-Produzentin. Leiterin mehrerer Workshops und künstlerisch-sozialer Arangements mit Aufträgen in Frankreich,Türkei, Tschechien, Brasilien, Spanien und Deutschland. Design und Umsetzung mehrerer großer Bühnenprospekte und Dekorationen für Konzerte und Veranstaltungsorte, u.a. "Nachtrock Spezial" 1997-2009 in der Volksbühne Berlin mit Nina Hagen, Stereo Total, Funny van Dannen, Puppetmastaz. Bühnenbild und Dekoration im Tempodrom Berlin, z.B "Maulhelden
Matthew Kopp
Matthew Kopp received a BFA from the School of the Art Institute of Chicago and an MFA from Columbia College in interdisciplinary art. Kopp has worked as a playwright, dramaturge, actor, and mentor for Tellin' Tales Theater in Chicago and participated in 20 Tellin Tales productions. His non-community based work utilizes performance art, installation video art, conceptual art, drawing, printmaking, and curation.
Minnie Griffith 
Minnie Griffith was born in England but grew up in the south of France and is now living in Berlin working in an art gallery as part of an european volunteer scheme. She passed her baccalaureate in 2015 and did two years of studies including fine arts & languages. All forms of art have always been her passion and she is delighted to be working in an art gallery in Berlin gaining experience in the art world and developing her artistic skills.
Mahsa Nejad
Mahsa born 1988 in Tehran.She is a freelance Illustrator and animator and studied in Bauhaus Univesity Weimar in media art and design.Her artworks bring forgotten feelings from childhood to life.She did several exhibitions in Iran and in Germany and made various short films.
Peter Goi (German Undercover Artist)
In the last ten years, his artistic work has been divided into various working projects which together form the GOI-universe. Working projects: painting, drawing, sculpture, objects, stage designing of space, performance/action, documentation, interior decoration, equipment, and so on, as well as sub-areas such as narrative photography, sound objects, tone-based collage works, videos…