Illustration, Zeichnung, Grafikdesign,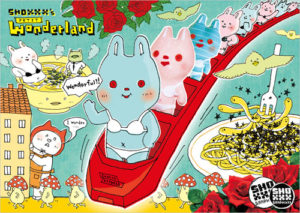 Painting, Näharbeit, Installation …
Design a Whole Room With SHOXXX's Works!!
Ausstellung: 17.09 – 21.09.2008  –  Mi.-So. 16Uhr – …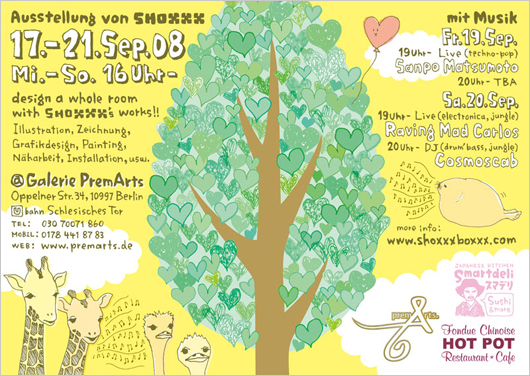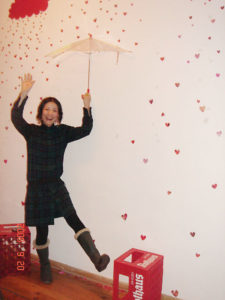 Shou, 1978, born in Japan, living in Berlin since 2005.
In Japan, I studied design (graphic design, product design, architecture, etc…) in university (national Kyoto institute of technology), since 2001 I have worked as graphic designer in advertising agencies and design offices In Berlin, I'm working as freelance graphic designer and illustrator,and also active in my own projects (drawings, illustrations, hand-made products, etc.).
My style : crazy designed drawings and illustrations, comical original characters (ex: sexy rabbit, running mashrooms, red hooded pig, heart bird, etc…)lively color combinations, witty and a bit mysterious visual ideas,completely DIY and hand-made products, etc… they come from my imagination,and they compose the very original SHOXXX-World.This time, I designed a whole room with my works.
It will be SHOXXX's PETIT Wonderland!!
web: http://www.shoxxxboxxx.com
myspace: http://www.myspace.com/shoxxx_is_here
MUSIK:
FR., 19.SEPTEMBER:
19Uhr – Live – Techno-Pop
Sanpo Matsumoto (Japan/Berlin) www.myspace.com/sanpomatsumoto
20Uhr– Live
Kurotech Group(Japan/Berlin)
SA., 20.SEPTEMBER:
19Uhr– Live – Electronic, Jungle
Raving Mad Carlos (Argentina/Berlin)
www.myspace.com/ravingmadcarlos
20Uhr– DJ – Drum'n Bass, Jungle
Cosmoscab (Berlin)