19.9. – 22.9.2007
jeweils 19.00 Uhr in PREMARTS – Freitag, 21.9.07, ab 22.00 Uhr
AFTER-SHOW PARTY mit DJ MINSKY im TRICKSTER, Oberbaumstr. 11, 10997 Berlin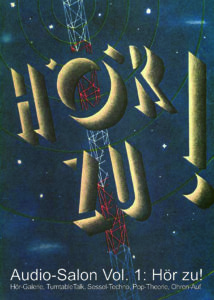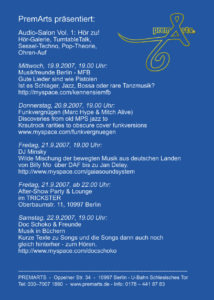 Audio-Salon
Vol. 1: Hör zu!
Hör-Galerie, TurntableTalk, Sessel-Techno, Pop-Theorie, Ohren-Auf
Mittwoch, 19.9.2007, 19.00 Uhr: Musikfreunde Berlin – MFB
Gute Lieder sind wie Pistolen – Ist es Schlager, Jazz, Bossa oder rare Tanzmusik? http://myspace.com/kennensiemfb
Donnerstag, 20.9.2007, 19.00 Uhr: Funkvergnuegen (Marc Hype & Mitch Alive) Discoveries from old MPS jazz to
Krautrock rarities to obscure cover funkversions www.myspace.com/funkvergnuegen
Freitag, 21.9.2007, 19.00 Uhr: DJ Minsky
Wilde Mischung der bewegten Musik aus deutschen Landen von Billy Mo über DAF bis zu Jan Delay.
http://www.myspace.com/gaiasoundsystem
Freitag, 21.9.2007, ab 22.00 Uhr: After-Show Party & Lounge im TRICKSTER Oberbaumstr. 11, 10997 Berlin
Samstag, 22.9.2007, 19.00 Uhr: Doc Schoko & Freunde Musik in Büchern
Kurze Texte zu Songs und die Songs dann auch noch gleich hinterher – zum Hören.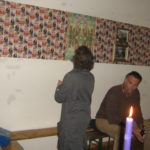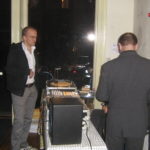 http://www.myspace.com/docschoko