The first week of September will showcase a huge and colorful collection of pages from the sketchbooks of the Werkstatttraum group of artists, working in the same studio at Skalitzer Straße 100.
The sketchbook pages will be framed and hung in the gallery. At the same time, a Tattoo artist, also a part of the collective, will be live­tattooing the designs from the sketchbooks.
This is also a game for affordable art! When a visitor decides to buy a piece, a colored dice is rolled, indicating the price to be paid, between 10 to 60 Euro (Price by Dice)
Empty sketchbooks of torn out papers will be flung around the lamps. The Projection crew will create a projection artwork on the frames in the gallery and on the trees at the Vernissage and Finissage.
Live Drawing: The Street crew will paint on the windows of the gallery at the Vernissage
The crowd will be welcome to paint on it also at the Finnissage.
During the opening and closing event there will be a DJ and a bar.
Exhibiting Artists:  Sophia Melone / Birgitt Böse / Peter Zschiesche / Benjamin Nutt / Kevin Gray / Julia Van Der Bom / Jules Marfaing / Julien Wermann / Mahir Duman / Manuela Garcia Aladana / Henrike Thomas / Nadia Petkovic / Boaz Balachsan (BZB)
*
Vom Kollektiv WERKSTATTTRAUM
In der Premarts Galerie wird das "Werkstatttraum" Kollektiv in der ersten Septemberwoche eine bunte Sammlung einzelner gerahmter Skizzenbuchseiten präsentieren. Die Seiten sind tatsächlich den Skizzenbüchern der Künstler entnommen, die gemeinsam im Kollektiv in der Skalitzer Straße 100 arbeiten. Eine Tattookünstlerin, ebenfalls Mitglied, wird während der Galerieöffnungszeiten die Skizzen live tätowieren.
Die Ausstellung macht den Kauf erschwinglicher Kunst zum Kinderspiel:
Entscheidet sich ein Besucher zum Kauf eines Exponats, wird ein Farbwürfel geworfen, wobei die jeweilige Farbe einen Preis zwischen 10 und 60€ festlegt.
Von der Decke werden eine Reihe "leerer" Skizzenbücher hängen, die, deren Seiten nun gerahmt an den Wänden hängen.
Eine Visual-Gruppe des Kollektivs wird mit Projektionen die Bilderrahmen der Werke bespielen. Zudem bestrahlen sie zur Ausstellungseröffnung und Finissage einige Bäume vor der Galerie.
Live Zeichnen: Die Street-Crew des Kollektivs wird während der Ausstellung eine gemeinsame Zeichnung an den Fenstern der Galerie kreiren. Zur Finissage sind alle Zuschauer eingeladen, daran teilzunehmen.
Während der Eröffnung und der Finissage wird eine Bar geöffnet haben und ein DJ spielen.
PASAŽ // A Solo Exhibition By Boaz Balachsan
// BZB Berlin Art Week 2017 // 10 – 16 Sept.
During Berlin's 2017 Art Week Boaz Balachsan aka BZB, the Berlin based Israeli artist, will stage an exhibition Inspired by Contemporary illustration, Street art, Folk art, and Berlin's subculture.
The exhibition is a fusion of faces, languages and dreams, from both Germany and Israel. The Passage is a place of relaxing uncertainty, a place of being in between, in between homes, between memories, between decisions, between rituals, between holiness, between lifetimes. The exhibition will consist of original work, both visual and audial, created specifically for the exhibition, expressing an atmosphere of a passageway through a hive of windows, representing a dream world compiled of characters, patterns and script, referring to the experience of immigration as a sort of an aboriginal dreamtime journey.
On the Vernissage and Finissage the space will host the Werkstatttraum art and design collective, with musical performances and a bar. To properly open and close the exhibition, a "Rites De Pasa Ž " / Rite of passage will take place, hosted by the Polyjam collective.
VISUALS // Boaz Balachsan / BZB SOUND // Bozart DJ // The Tropikal Camel / Sonnemondundmango RITUALS // Polyjam BAR // Werkstatttraum
*
Inspiriert von zeitgenössischer Illustration, Street Art, Volkskunst und Berliner Subkultur, ist die Ausstellung eine Verschmelzung von Gesichtern, Sprachen und Träumen aus Deutschland und Israel. Die Passage ist ein Ort der entspannenden Ungewissheit, ein Ort des Dazwischens, zwischen Heimat, zwischen den Erinnerungen, zwischen den Entscheidungen, zwischen den Ritualen, zwischen der Heiligkeit, zwischen den Lebenszeiten. Die Ausstellung besteht aus Originalarbeiten, sowohl visuell als auch audial, die speziell für die Ausstellung erstellt wurden und die Atmosphäre eines Durchgangs ausdrücken. Ein Bienenstock von Fenstern, die eine Traumwelt aus Figuren, Mustern und Schrift erzeugen, unter Einbezug der Erfahrung der Einwanderung als eine Art aboriginaler Traumzeit-Reise. Während der Vernissage und Finissage wird das Kollektiv des Werkstatttraums eine Bar betreiben und für musikalische Darbietungen sorgen. Um die Ausstellung gemäß des Mottos zu öffnen und zu schließen, findet ein "Rites De Pasa Ž " / Ritus der Passage statt, welches vom Polyjam-Kollektiv durchgeführt wird.
VISUALS // Boaz Balachsan / BZB SOUND // Bozart DJ // The Tropikal camel / Sonnemondundmango RITUALS // Polyjam BAR // Werkstatttraum
*
Boaz Balachsan is an Israeli visual storyteller. Fascinated by the human condition, Boaz likes to create work that invokes empathy and still allows plenty of room for interpretation. A graduate from Bezalel Academy in Jerusalem, his work exhibits bright and playful ideas through fascinating characters and patterns which are inspired by folktales, philosophy, and humour. Boaz is currently based in Berlin, where he manages the Werkstatttraum collective and continues to showcase his talent for beautifully stylized ideas through various mediums such as illustration, graphic design, street art, and animation. His animated works have been screened in many festivals around the world and received numerous awards.
*
Boaz Balachsan ist ein visueller Geschichtenerzähler aus Israel. Seine Faszination für das menschliche Wesen und dessen Verbindung zur Natur inspiriert ihn zu Arbeiten, die sowohl Empathie im Zuschauer hervorrufen, diesem aber gleichzeitig viel Spielraum für eigene Interpretationen lassen. Der Absolvent der Bezalel Akademie in Jerusalem stellt leuchtende und spielerische Ideen durch faszinierende Charaktere, imaginäre Pflanzenwelten und geometrische Muster dar, allesamt inspiriert von volkstümlichen Erzählungen, Philosophie und seinen persönlichen Erfahrungen.
Derzeit lebt Boaz in Berlin, wo er das Kunst & Designkollektiv Werkstatttraum leitet und damit fortfährt, seinem Talent für herrlich stilisierte Ideen auf verschiedene Arten wie Illustration, Grafikdesign, Straßenkunst und Animation Ausdruck zu verleihen. Seine mehrfach ausgezeichneten Animationen waren schon auf vielen Festivals weltweit zu sehen.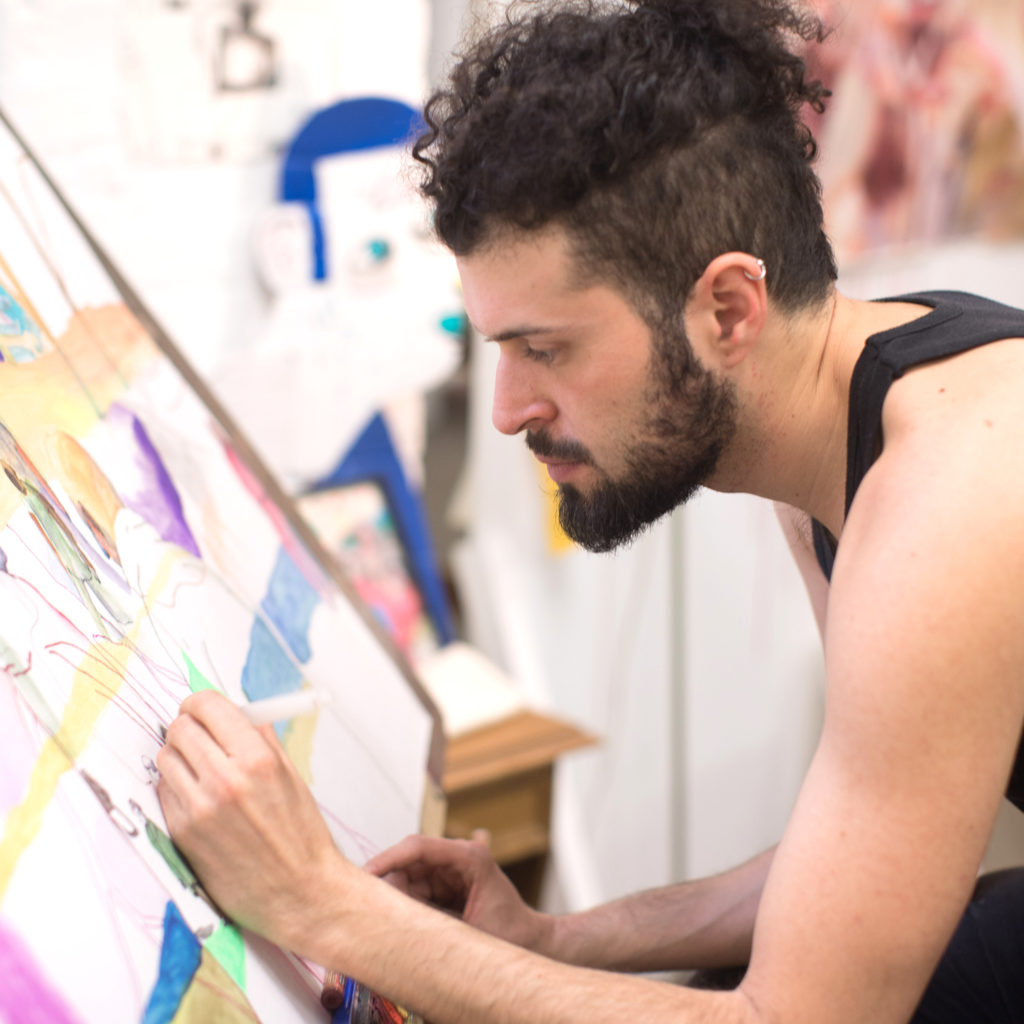 Save