Erick Costa Kohl
Beginners Course| 10 Participants |3 Stitches
Workshop: Sunday, 19.08.2018, 2:00 – 6:00 pm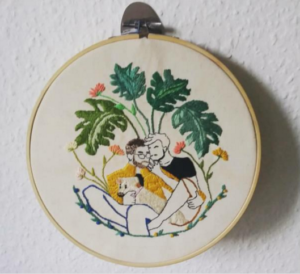 Embroidery artist Erick Costa Kohl invites to his Embroidery workshop for Beginners at PremArts. Participants will be shown and have the chance to practice 3 different stitches for contouring and filling techniques.Through embroidery, creative mind Erick Costa Kohl found another way to to express his creativity and is now sharing his skills in workshops.
Learn and practice embroidery in a small group of 10 people in a pleasant atmosphere.
All materials (embroidery hoop, thread, sketches, pens, needles and fabric) will be provided for the 4-hour workshop.
Workshop fee: 30 €
Number of participants: 10
If you are interested to participate in this workshop, a payment fee of 10 € needs to be paid until 15.08.2018
Contact: berlinstickerei@gmail.com
—— German below ——– Continue reading "EMBROIDERY WORKSHOP"