M A R S – The backwards traveler / Drawings |Paintings
Sándor Barics
Vernissage: Mittwoch, 16.5., 19:00 Uhr – 22:00 Uhr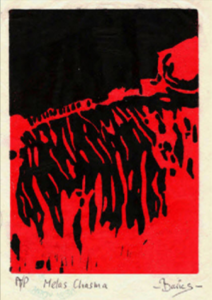 Ausstellung: 15.05. – 22.05.
Öffnungszeiten:
Di 15.05. 16:00 -21:00 Uhr
15.5   Di       16. -21. Uhr
16.5   Mi      16. – 22  Uhr    19.00 Uhr Vernissage
17.5   Do      14 – 20 Uhr
18.5   Fri      14 – 20 Uhr
19.5   Sa      11 –  16 Uhr
20.5   So      14 – 18 Uhr
21.5   Mo     14. – 18 Uhr
22.5   Di       14 – 18 Uhr
BERÜHREN ERLAUBT
Der 1970 in Ungarn geborene Maler Sandor Barics schafft Kunstwerke von hohem visuellem und taktilem Reiz. In seinen jetzt gezeigten Arbeiten aus der Serie "Mars" steht die Farbe "Rot" im Mittelpunkt. Das ist die Farbe, die mit dem Nachbarplaneten Mars verbunden wird. Rot ist aber vor allem jene aufregende Farbe, die in mehrfacher Hinsicht als herausragendes Symbol gilt. Eben das ist es, was den Künstler seit vielen Jahren in besonderer Weise zu immer neuen Bildern inspirierte. Innerhalb seiner "Roten Phase" entstanden mehr als 500 Arbeiten zwischen 1998 bis 2018 in unterschiedlichen Techniken und Formaten. Die Austellung zeigt hiervon eine kleine, erlesene Auswahl.
Es war aber nicht nur der rote Planet "Mars", der in Sandor Barics immer wieder neue Bildideen auslöste, sondern die Symbolkraft der Farbe ganz grundsätzlich.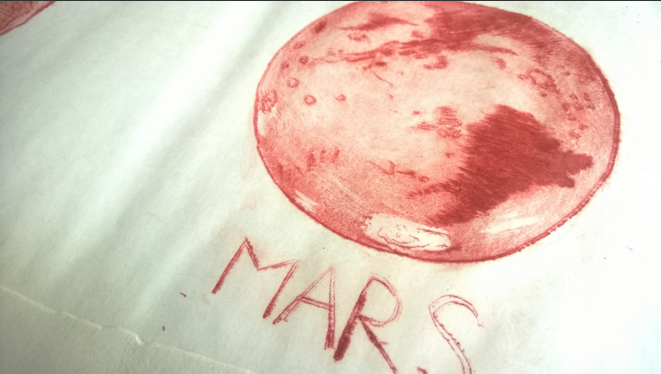 Voraussetzung dafür war natürlich ein intensives Studium, ein akribisches Durchdringen der Farbsymbolik und es musste die genaue Analyse spezifischen Verhaltens und Ausdrucks von der Farbe damit einher gehen, denn, so notierte der Künstler : "Die Farbe in einem Gemälde entspricht nicht bloß der Farbe der Pigmente, sondern auch dem flüssigen Bindemittel, genau so wie den Bedingungen ihrer Gestaltung auf der Fläche und der Verbindung mit den Eigenschaften des Bildträgers".
Sandor Barics integriert häufig in seinen Gemälden die unterschiedlichsten Materialien, zum Beispiel solche, die auch als Verpackungsstoffe dienen können. Das sind Styroporchips, Schaumstoffe, Strukturfolien, Pappe oder Klebeband. Natürliche Stoffe, als da wären Sand, Asche oder Marmormehl, setzte er gleichfalls von Fall zu Fall ein. Sand aus seiner Heimatstadt in Ungarn brachte er einmal mit und verwendete diesen in einzelnen Werken. Weil er die Acrylfarbe in mehreren Schichten aufträgt, wodurch sie sich nicht nur überlagert, sondern auch vermengt und vermischt wird, entstehen reliefartige Oberflächen auf seinen Bildern. Die Oberfläche ist stets von besonderer Bedeutung, sinnliche, synästhetische Haut, auf der sich berühren und berührt werden treffen, als eigenwillige Schnittstelle zwischen dem physikalischen Objekt und seiner sinnlicher Erfahrung. Der Betrachter findet vielfältig weitere Scheingegensätze. Die Arbeiten knüpfen an bei Vertrautem und führen der Betrachter in überraschenden Wendungen zu unvertrauten Neuem.
Rot ist die Farbe des Blutes ( Leben ) und der Kraft, sie ist zudem, und dies landläufig verbreitet, die Farbe der Liebe, der Erotik, der Energie.
" Ich reagiere "- so Sandor Barics " gerne auf Dinge, so auch auf Rot. Das ist für mich die Farbe des Lebens. Es ist eine männliche Farbe und die Farbe der Aggressivität. Rot ist begrenzt und nicht für die Ewigkeit. Es ist der Gegenpol zum leidenschaftslosen, kühlen Blau, Farbe der Ewigkeit und er unbegrenzten Dimensionen. Ich denke diese Serie ist meine männliche Serie! Grün ist danach das weibliche Element".
Die Mars-Serie basiert auf Aufnahmen aus der Vogelperspektive. Wir beobachten von oben, durch Satelliten, die uns ferne Welten sehr nahe bringen. Faszinierende Fotos, Dokumente der Neuzeit, die uns seit bereits der 60er Jahren von Sonden zur Erde übertragen werden. Gebirge und Täler tauchen mithin auch in den Bildern von Sandor Barics auf, dazu gewaltige Canyons, Flussläufe und eine raue Oberfläche. Seine Bilder stellen Landschaften dar, gemalt in der Perspektive der 21.Jahrhundert. Landschaften, die wir bisher nur mit unseren Augen berühren konnten.
Der Künstler artikulierte ganz klar: "Meine Bilder dürfen und sollen berührt werden!"
Eine Aufforderung an die Betrachter, Kunst endlich nicht nur zu sehen sondern auch zu ertasten und zu erfühlen.
*** English Version Below ***
***
Touching is permitted
Born in Hungary in 1970, painter Sandor Barics creates works of art of high visual and tactile appeal. In his works from the series "Mars" now shown, the focus is on the color "red". This is the color that is connected to the neighbor planet Mars. Above all, red is that exciting color that is regarded as an outstanding symbol in many ways. This is exactly what has inspired the artist for many years in a special way to ever new images. Within his "Red Phase" more than 500 works were created between 1998 and 2018 in different techniques and formats. The exhibition shows a small, exquisite selection.
But it was not just the red planet "Mars" that repeatedly triggered new image ideas in Sandor Barics, but the symbolic power of color in principle.
The prerequisite for this, of course, was an intensive study, a meticulous permeation of color symbolism, and the precise analysis of specific behavior and expression of color had to go hand in hand, because, the artist noted: "The color in a painting does not just correspond to the color of the pigments but also the liquid binder, as well as the conditions of their design on the surface and the connection with the properties of the image carrier ".
Sandor Barics frequently integrates a wide variety of materials in his paintings, for example those that can also serve as packaging materials. These are styrofoam chips, foams, structural films, cardboard or adhesive tape. Natural substances, such as sand, ash or marble dust, were also used on a case-by-case basis. He once brought sand from his hometown in Hungary with him and used it in individual works. Because he applies the acrylic paint in several layers, whereby it is not only superimposed, but also blended and mixed, relief-like surfaces appear in his pictures. The surface is always of particular importance, sensual, synesthetic skin on which touch and touch meet, as an idiosyncratic interface between the physical object and its sensual experience. The viewer will find many other sham laws. The works tie in with the familiar and lead the viewer in surprising turns to unfamiliar new.
Red is the color of the blood (life) and the power, it is also, and this is common, the color of love, eroticism, energy.
"I react," says Sandor Barics, "to things like red. That's the color of life for me. It is a male color and the color of aggressiveness. Red is limited and not for eternity. It is the antithesis to the dispassionate, cool blue, color of eternity and unlimited dimensions. I think this series is my male series! Green is then the feminine element ".
The Mars series is based on bird's-eye images. We observe from above, through satellites, which bring us very close to distant worlds. Fascinating photos, documents of the modern age, which have been transmitted to Earth from probes since the 1960s. Mountains and valleys also appear in the pictures of Sandor Barics, in addition huge canyons, river courses and a rough surface. His pictures depict landscapes, painted in the perspective of the 21st century. Landscapes that we could only touch with our eyes.
The artist articulated quite clearly: "My pictures may and should be touched!"
An invitation to the viewer, not only to see art, but also to feel and to touch.