Work in Progress: Molekules/Bridging the Gap-Learning to learn trough Music & Media : Meeting in Berlin: Salon Bruit, VHS Donaustadt/Staatsaffaire Wien, MS Stubnitz, Gaffer Records Lyon.
Eröffnung : 20.06.

Workshops:
How to built your own microphone
Adult learners learn in a 2hours workshop how to built their own microphone using low fi, simple and good price technology.
Soundrecording and -editing with Audacity
People learn to record and edit sound with the software Audacity available in the web for free.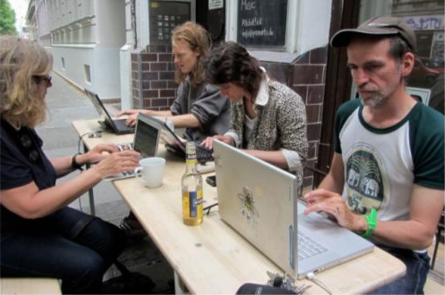 Animation Workshop
People learn to create their own animation video in an about 5hours workshop.
Learn to use Pure-Data Software to create electronic music instruments via software
People learn to use the open source software pure data available for free in internet.
Workshop: My first Gig
People learn to organize a music event including booking the artists, public relation work, to coordinate the technics.
Workshop: jam session
People learn to use low Fi instruments and very accessible tools and media for music improvisation sessions
OpenSpace Workshop-Setting 'MOLEC/KULES'
6 workshops are running parallel located like workshop-stations in one space. During the day people can participate at more than 1 workshop. The combination of each workshops learning content leads them to the realisation of a complex artistic outputs
Ton (SOUND)
Innovative Bildung und Trainingmodule (PR14)
Joyriders – Feeding the Gap live
Blind Date Concerts-Event
Over the Gap on Board
Live Improvides noise music LineUp of artists participating in the Learning Partnership Bridging the Gap
MOLÉ(C/K)ÜLES – Jam-Session