Avner Gavrieli-Glasberg:
Post Post Neoklassizismus – Serien in Progress
Eröffnung: Fr. 02.09.2011, 19 Uhr
Ausstellung: 03.09.-18.09.2011, Di – So 16 – 19 Uhr u.n.V.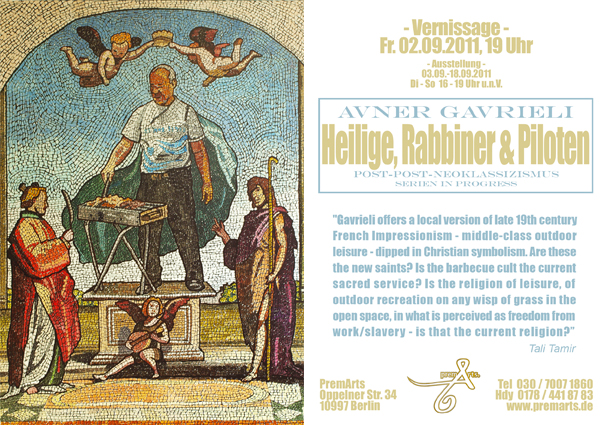 "Avner Gavrieli's painterly work follows Byzantine mosaic technique with great expertise, trailing the entangled course of the set stones, but adds to the Christian style an invented oriental horizon that includes palm trees, ruins of Sheikh graves, domestic and farm animals and other details of local scenery.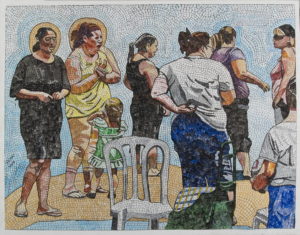 Gavrieli offers a local version of late 19th century French
Impressionism—middle-class outdoor leisure—dipped in Christian symbolism.
Are these the new saints? Is the barbecue cult the current sacred service? Is
the religion of leisure, of outdoor recreation on any wisp of grass in the open space, in what is perceived as freedom from work/slavery—is that the current religion?"
Tali Tamir
Begleittext zur Ausstellung ""Art on Fire" in der Galerie Contemporary by Golconda, Tel Aviv 2010
http://contemporary.co.il
Biographical Notes
Born 1950 in Kibbutz Givat Brenner
Works in a wide variety of arts: painting, sculpture, photography, Video Art production, music on stage.
Studies :
1974-1978 Art and photography studies, Worthing College of Art, England
1984 "Philosophy of Art" course with Tamar Getter
1998 "Right Hand Brain Drawing" course with Tami Katz
2003-2004 Singing and Vocal Training
2004-2008 Classical painting studies with Vadim Potievsky
Exhibitions
1982 "Gringoes in South America," The White Gallery, Tel Aviv (group exhibition)
1986 "Sculptural Objects," Kibbutz Givat Brenner (group exhibition)
1986 "People," Kibbutz Givat Brenner (solo exhibition)
2000 "Landscapes," Entoderweder Galerie, Dorfen, Germany (solo exhibition)
2005 "Kibbutz Workshop Artists Exhibition" (group exhibition)
2010 "Jumping Board," David Yellin College of Art, Jerusalem (solo exhibition)
2010 "Art on Fire," Contemporary by Golconda Gallery, Tel Aviv (group exhibition)