10 Day Christmas Art Market
14 – 23 December 11:00 – 19:00
Auction Xmas Party – Fri/Fr 22 Dec 20:00
Cozy comfort mingles with friendly art prices at this storefront gallery project space transformed into a Kunst Cafe for ten days – with an auction hosted by Simon Williams of the Ballery – three days before Christmas.
Apfel warmer, mulled wine, creative baked goods and inexpensive art: colorful paintings, contemporary photographs, hand-crafted booklets, dynamic sketches and innovative objects.
Open every day from Thursday the 14th of December through to the Saturday before Christmas, the 23rd, Winter Warmer invites you to select unique beautiful and special gift items available for the last minute shopper. The Xmas party Auction on Friday the 22nd promises to be a lively event with dynamic host Simon featuring art favorites.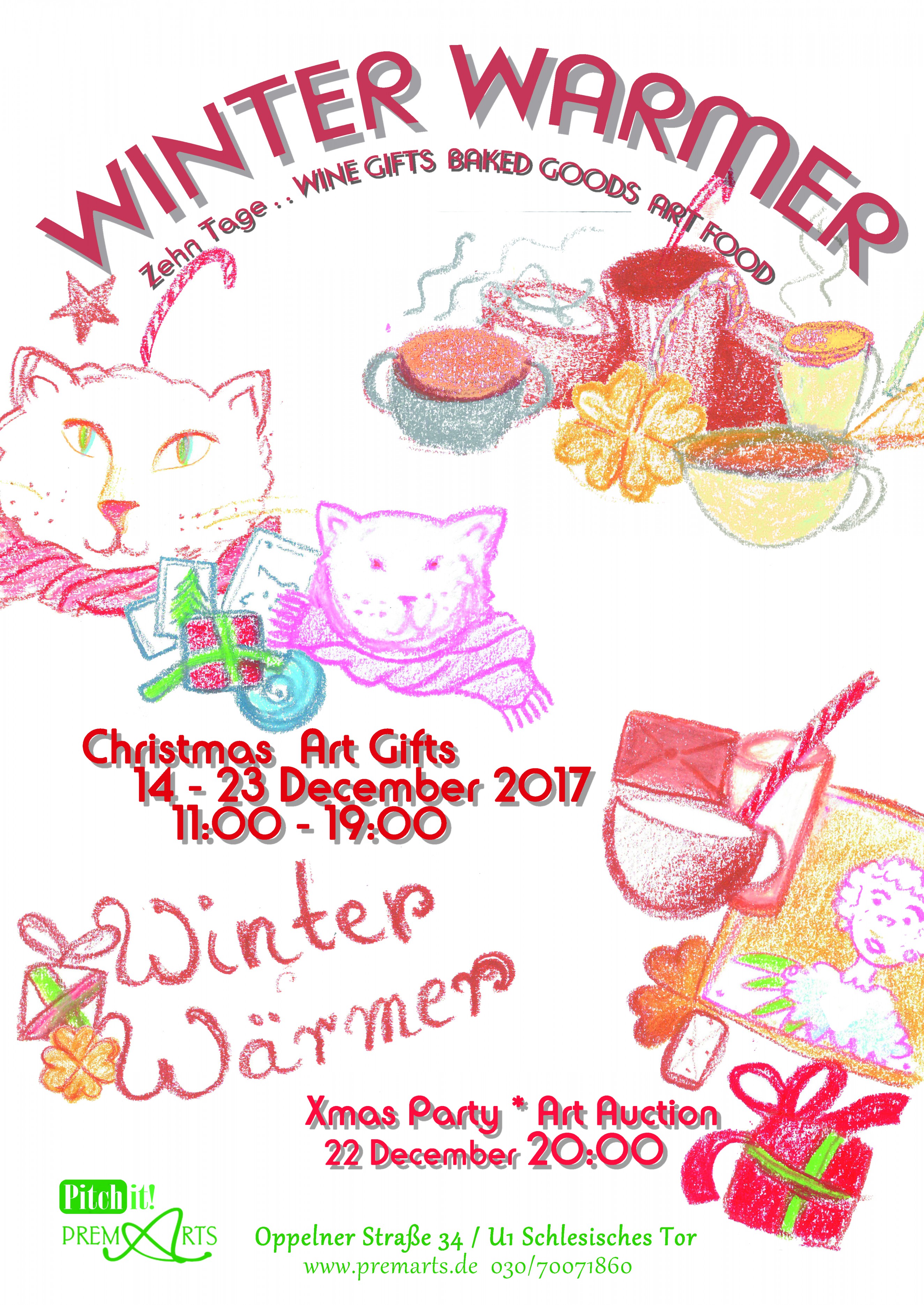 *
Warme freundliche winterliche Gemütlichkeit vermischt sich in unserem Projektraum, der Ladengalerie PremArts mit erschwinglichen Kunstgeschenken. Für zehn Tage verwandeln wir uns in eine künstlerische Winterwärmerstube.
Apfelwärmer, Glühwein, Goldmilch, kreative Backwaren und für jedes Budget gibt es Kunst zum verschenken : farbenfrohe Gemälde, zeitgenössische Fotografien, handgefertigte Booklets, dynamische Skizzen und innovative Objekte.
Wir haben täglich geöffnet von Donnerstag, dem 14. Dezember, bis zum Samstag dem 23. vor Heiligabend. Winterwarmer läd ein, einzigartige schöne und spezielle Geschenkartikel auszuwählen, die wir auch gerne liebevoll verpacken.
Die Xmas Party Auktion mit Simon Williams von der Ballery am Freitag, den 22. Dezember, verspricht ein ganz besonderer Höhepunkt zu werden.
* * *